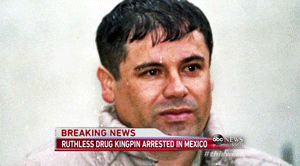 Joaquín "El Chapo" Guzmán, the man accused of having run the world's largest drug trafficking organization, is about to see his day in a U.S. court. Jury selection began Monday in Brooklyn, N.Y.
The notorious drug lord, already convicted of crimes in Mexico, stands accused in the U.S. of leading a criminal enterprise, distributing cocaine and laundering the proceeds, among other alleged crimes.
The 17-count indictment, which spans decades, alleges that Guzmán's cartel shipped tons of drugs from South America to the United States, and then illegally moved billions of dollars in profits to Mexico.
Leaders of Guzmán's Sinaloa Cartel "employed 'sicarios,' or hitmen, who carried out hundreds of acts of violence, including murders, assaults, kidnapping, assassinations and acts of torture," according to the indictment. Guzmán pleaded not guilty in 2017, after he was extradited from Mexico.
The identities of the jurors selected will be anonymous, and they will also be partially sequestered.
The judge made that decision earlier this year, as NPR's Vanessa Romo reported, "to protect the integrity of the trial and to mitigate any fear of harassment or intimidation in the jurors' minds."
Guzmán's lawyer Jeffrey Lichtman said his client is ready for the trial to begin, according to NPR's Carrie Kahn. "The 9/11 co-conspirators were kept in better conditions than Mr. Guzmán, so he is happy to get out of the 23-hour lock-up with very little human contact," Lichtman said.
Before his extradition, Guzmán escaped from prison in Mexico – twice.