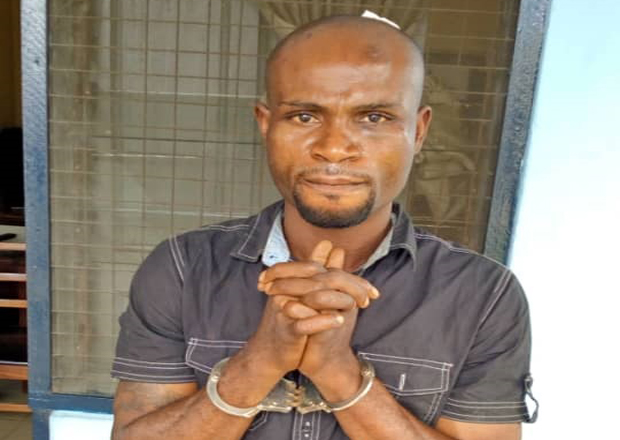 A taxi driver on Monday morning knocked down two Nigerian armed robbers who had attacked someone and were fleeing on a motorbike at Tesano Traffic Light, leading to the arrest of one of the suspects.
The suspect, Endurance Duru, was nearly lynched by a mob but the timely intervention of police saved his life. However, his accomplice, identified as Chimezie Bright, managed to escape with the motorbike.
According to sources, the victim had gone to withdraw GH¢14, 300 from a bank near Achimota Overhead and was heading towards Nkrumah Circle in a taxi when the suspects trailed and attacked him at the Tesano Traffic Light.
The source said the money was contained in a brown envelope but got scattered on the main road when the taxi driver knocked down the suspects.
However, half of the amount that was snatched could not be accounted for when all the money was finally gathered and handed over to the police by the victim with the help of passersby.
Confirming the story to DAILY GUIDE, the Accra Regional Police Public Relations Officer, Deputy Superintendent of Police (DSP) Effia Tenge said the incident occurred around 11am on Monday.
The victim went to a nearby bank, cashed GH¢14, 300 and hired a taxi to take him to Nkrumah Circle.
The two Nigerian suspects who were then sitting on a motorbike trailed the taxi until it stopped at the Tesano Traffic Light.
The two men then pounced on the victim in the vehicle and succeeded in collecting the envelope containing the money from him. While attempting to escape, another taxi driver spotted them and knocked them off their motorbike.
The money then scattered on the road but suspect Chimezie Bright who was riding the motorbike managed to escape, leaving Endurance at the scene.
She said some passersby who came to help collect the money also stole some amount of the money. When the final amount was counted, a total of GH¢ 7,100 was missing.
The timely intervention of the police in the area saved the life of suspect Duru who was nearly lynched. He is now in the custody of the police assisting in investigations.
DSP Tenge called on the public not to exploit people's misfortune to enrich themselves since it also amounts to stealing.