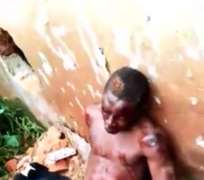 A young man has unfortunately clasp his sudden death in the early hours of today as he was furiously throbbed by angry youths for stealing phones and phone gadgets in a shop at Osumenyi, in the Nnewi South Local Government Area of Anambra State.
The bloke who was simply identified as Mr. Ikechukwu Ezike (aged 33) was said to be an indigene of the community, and was said to have been indubitably trapped in the act of burglary as he broke into a shop popularly known as 'So Good' which is located quite antipodal to the Holy Spirit Catholic Church Osumenyi, along the road leading to the popular Eke Osumenyi Market.
According to an eye witness, Mr. Okechukwu Emesiofor who is also an indegene of the community, the killed suspect was said to have broken up a part of the said shop in the dangerous hour of the night, from where he sneaked in and snitched some goods -- phone accessories and other gadgets, and decided to sprint away, but was caught 'red-handed' by some youths, who immediately launched a vicious assail on him and beat him sadistically until he finally gave up to a ghost.
He ruefully narrated how an unknown thief has persistently tormented the owner of the said 'So Good' shop, launched series of operations on the shop and carted away with items running into whooping amounts of money, even to the extent that he was eventually pushed to go extra mile in seeking protection for his shop, which is assumed to have finally worked impeccably by exposing and bringing an immediate end to the existence of the suspected criminal, who was also said to be a rain maker who would use artificial rain and thunderstorms to scare people away and tie them down at home whenever he wanted to carry out his criminal operations.
However, as at the time of filing this report, it is still uncertain as to the actual people who beat the suspect to death, with regards to their nativity and their reasons for taking such a jungle dive.
Nevertheless, the officers of Osumenyi Police Divisional Headquarter has promised to launch a further investigation into the matter, even as they deposited the remains of the suspected criminal in a nearby mortuary.