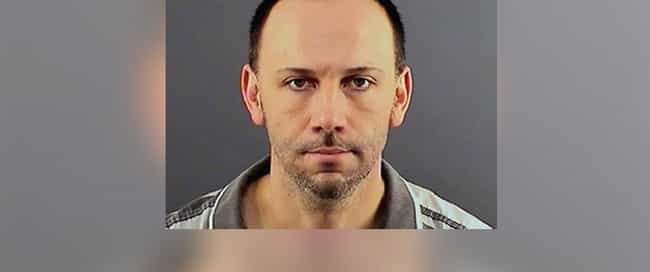 MISSIONARY KILLS WIFE
Nathan Leuthold and his wife Denise met a Lithuanian student while on a missionary trip to Eastern Europe, when the girl turned 18 the husband and wife team sponsored her immigration to the United States. But things turned dark after Nathan allegedly fell in love with the student and killed his wife so the two could be together. He told Police his wife had been the victim of a home invasion, but after looking at his computer and noticing that he'd googled "how to muffle a gun," "hitting someone over the head to knock them out," and "lethal injection," the jig was up.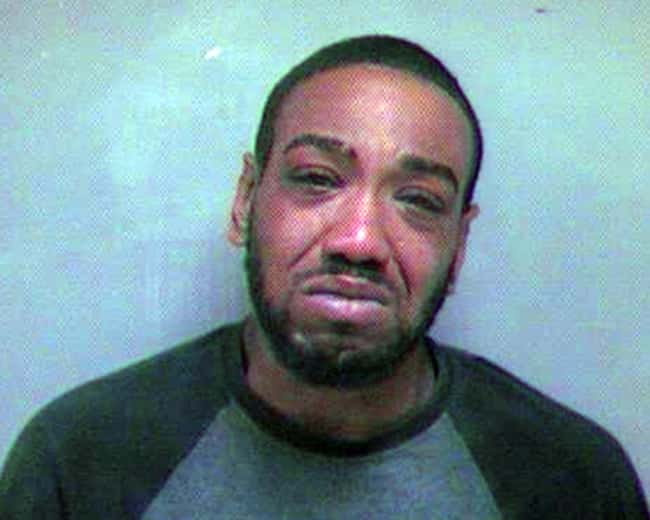 Man Gets Life Sentence Plus 35 Years For Valentine's Day Murder
Gibson Paul was living with Tomicka Peterson in West Palm Beach. But on Valentine's Day of 2011 Tomicka decided she no longer wanted to live with Gibson and certainly did not want him to be her Valentine, which is one of the reasons he is crying in his mugshot (yes, that is his real mugshot, not a still from the "why he don't want me man?" episode of Fresh Prince where Will confronts his estranged father).
Tomicka informed Gibson that she would be leaving him, and that she would be moving out of their shared apartment. She then tried to end the relationship and leave the apartment with some friends for safety. But instead of taking a step back, a few deep breaths, and spending some time thinking about how he was to blame for all this... he grabbed his semiautomatic pistol.
He opened fire on the car that his newly ex-girlfriend was in which contained a male driver, two female passengers, and a 3-year-old girl. One woman was grazed by a bullet, but it was Tomicka that took the brunt of Gibson's rage. She was shot five times and died at the scene.
Gibson was arrested and charged with first-degree murder, aggravated assault, 5 counts of shooting into an occupied vehicle and possession of a firearm by a convicted felon.
Gibson demanded a speedy trial and acted as his own attorney. Naturally a 29 year old convicted felon facing 8 charges would be able to aptly defend himself. But soon after the trial began, Gibson realized he's not the best decision maker and asked Circuit Judge Karen Miller to have Assistant Public Defender Aaron Ritchey rejoin him and take over his defense.
Even with a real lawyer, Gibson received life in prison on the first-degree murder charge, 20 years on the aggravated assault charge, and 15 years each on charges of shooting into an occupied vehicle and possession of a firearm by a convicted felon. Which he must have to serve... in the afterlife? Anyway, guy's locked away forever.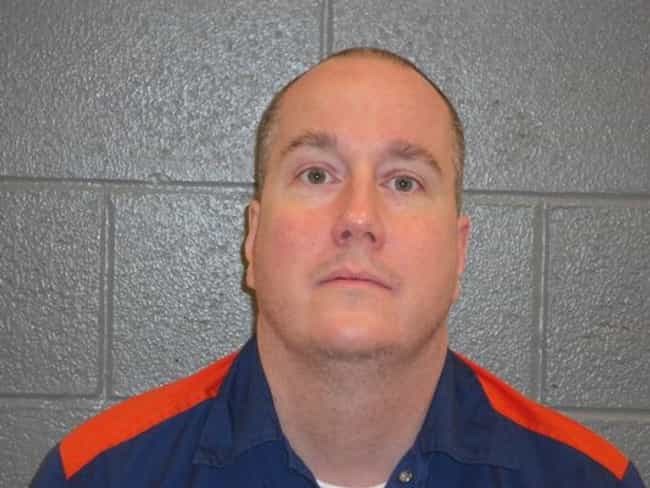 Man Butchers Wife In Family Home, A Love Story is Born
This is weird, gross and kind of long, so bare with me here. This is how love happens.
Stephen Grant walked into the Macomb County Police Department on a Valentine's Day and reported his wife missing. Three weeks later they found her torso in his garage. 34-year-old Tara Lynn Grant was killed by her husband in their home in Washington Township, Mich. And this was just the beginning. Stephen said his wife, and mother of his two young children, vanished on the night of Feb. 9. He claimed she returned from her job in Puerto Rico, fought with him and then left getting into "a mysterious dark car".
After police found the torso (yes, just the torso) in the home, they found more body parts all over a wooded area near Stony Creek Metro Park. Stephen did not confess to the murder until after he was arrested, even though he'd previously pronounced his innocence, undying love and concern for his wife. But a former girlfriend then turned over a whole lot of damning evidence including emails from Stephen in which he mocked marriage vows and offered to let the woman, a nursing student, practice sponge baths on him.
He also said he was suspicious about his wife's relations with an old boyfriend and an older man at her work, which probably justified his actions in his own head.
Stephen let the authorities into his home for the search, and then fled the scene. Authorities had to search the area for him, contact relatives, comb his neighborhood and even reached out to his lawyer. "By no means did we expect to recover what we did," said Macomb Country Sheriff Mark Hackel regarding the multiple body parts found around the area.
But then, Justice!
Stephen eventually confessed to the crime and was arrested. While he was waiting for his trial he was housed at the Macomb County Jail.
Bonus:
Also residing there was Jennifer K*kla. Jennifer was found mentally ill, but still guilty of first-degree murder in the deaths of 8-year-old Alexandra and 5-year-old Ashley. Police discovered the bodies of her daughters and the family's three pet Pomeranians in their mobile home in Macomb Township on Feb. 4, 2007, about 25 miles North of Detroit. Officers testified during her trial that K*kla said she heard the voice of the devil telling her to kill the girls and the dogs.
But here's the twist: Jennifer gave prison authorities over a dozen love letters that were written to her from Stephen Grant HIMSELF. Grant also wrote two letters to another inmate and four to a woman named Sarah -- though Jennifer said those were in response to letters she had written to him using that name.
Grant told Jennifer he wished they could arrange "a rendezvous in the closet one of these days. :-)" (Yes, he put in a smiley face.)
He also wrote that the "chats" with K*kla helped to "keep him sane" and said he missed his son, daughter and wife, Tara. "I have to tell you that you are the first person to ask if I miss Tara and the answer is Yes," he wrote.
Jennifer said she wrote to him because she and other inmates wanted to know what he would say about his crime.
Grant was eventually sentenced to 50-80 year in prison for second-degree murder of his wife, and moved to another prison away from Jennifer. There is no word on if they still are corresponding.
A love story for the ages.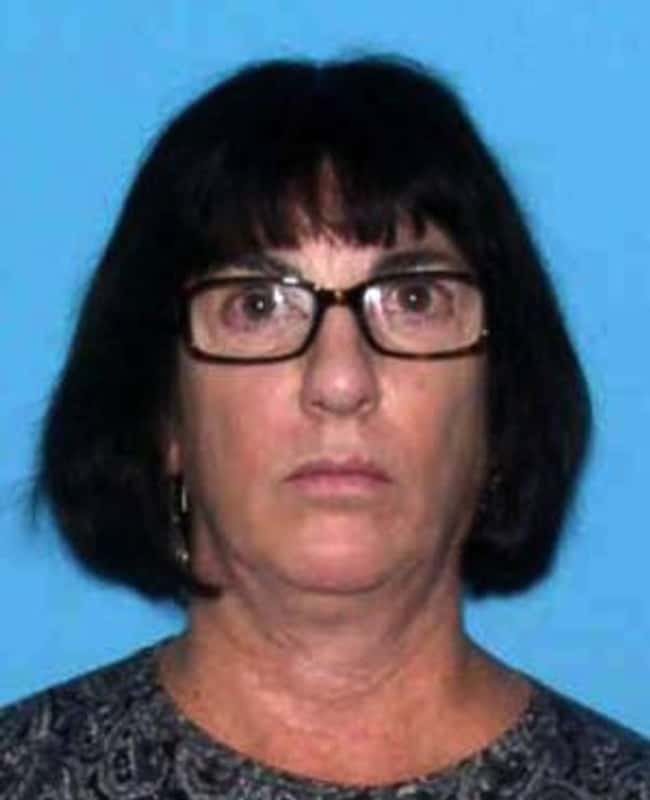 Judge's Daughter Beats Her Husband to Death
Andrea Consales, a school teacher and daughter of a deceased municipal judge, was charged with first-degree murder after she allegedly after she bashed her husband's head in on V-Day. EMT's responding to Consales' call noted significant fractures to the face, head, and torso that appeared to have been caused by blunt force. In her trial she told the court that her husband "had fallen," but the prosecution deemed the injuries consistent with homicide.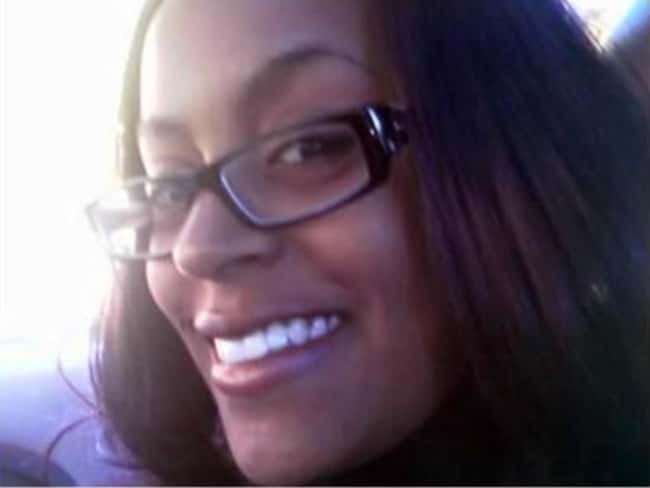 Victim's Screams Were Caught On Surveillence Footage.
Tiana Notice, a 25 year old gir working on her master's degree in communications at the University of Hartford, was dating James Carter II (not Jr., but "the second"). But in 2008 her relationship with James went South so Tiana ended it. James apparently was not happy with this decision. Like, at all. He went a little nuts.
Tiana even got a restraining order against James, but that didn't stop him.
According to Tiana's mother, Kathy Lewis, the last months of her daughter's life were "horrendous." She said "James terrorized Tiana and she pleaded with police to do something." But when the police did nothing, Tiana had her father put up a surveillance camera outside of her apartment. That surveillance camera recorded Tiana's screams as James butchered her outside of her apartment and saw her trying to run away from her killer, but the stabbing itself was not caught on film.
Tiana had called 911 and told them that her ex-boyfriend had just stabbed her and she was bleeding to death. Both the 911 call and the surveillance video were shown to the jury as well as a poem written by Tiana, read by her father.
The poem titled, "Chapter Closed," was about leaving James. She wrote about being released from his "temper, torture, threats, ego, jealously and insecurity." "An empty house in solitude is how he will spend his days," she wrote. "And I rest assured in knowing: I'm beautiful, smart, and on my way!"
James received 60 years in prison and his murder case helped influence changes to the state's domestic violence laws.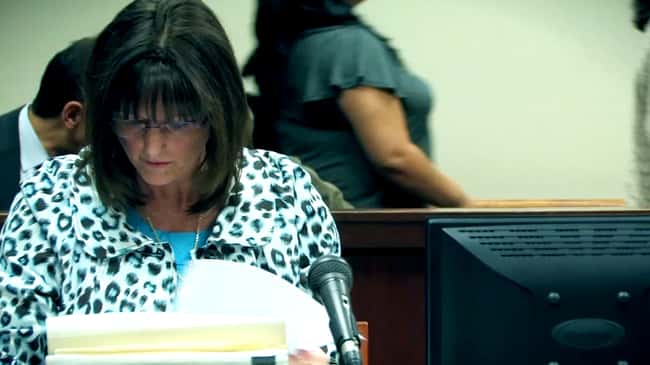 4-Year-Old Witnesses Mother's Murder Says "Ketchup is
everywhere."
Ignacia Manriquez was in a relationship with Juan Manuel Navarro and they had three children together, but Juan suddenly ended the relationship in 1993. Everything was normal at first. Ignacia even remained friendly with her ex for the sake of the children, but when Juan had a change of heart, and Ignacia refused to take him back… Juan decided to kill her.
The San Bernardino County deputy district attorney who prosecuted the case, Margaret Bevan, said Juan followed Ignacia to her family's home, "one of the kids allows him to come in because it's dad. They start to argue. She pulls out a restraining order. He says 'No piece of paper is going to keep me from you.' "
He then followed them to a local shopping center, and the two ended up fighting in a parking lot.
"Witness Bradford Montgomery testified he saw the couple arguing near her vehicle. He sees her crying," Bevan said. "Then he saw Navarro point the gun to her head and shoot her. Ignacia was shot at point blank range; she was shot in the stomach as she fell, then again on both sides of her head when she was on the ground according to officials. He shot her in the head at point blank range, then in the stomach twice, then in the head twice again. Most vampires aren't executed to this degree.
Mr. Montgomery was not the only witness to the crime; Juan killed Ignacia in front of their 4 year old son Juanito. Juan picked up the boy and ran with him, an anonymous person dropped Juanito (the son) off at a relative's home 17 days later. When police interviewed the little boy about what happened he said, "Ketchup is everywhere." According to his aunt, the young boy, now 22 "has suffered and will continue to carry the burden of what he witnessed, his mental state is not of a 22-year-old.
He is very insecure, unstable and suffers from anxiety.
He did not finish high school no matter how much his grandparents and family insisted and persuaded for him to continue his education. He just didn't seem to see beyond the shooting."
Juan took off to Mexico, where he hid for 19 years. But in 2012 Juan was found and prosecuted for the murder of Ignacia and was sentenced to 30 years to life in prison for the murder of his girlfriend, mother of his children.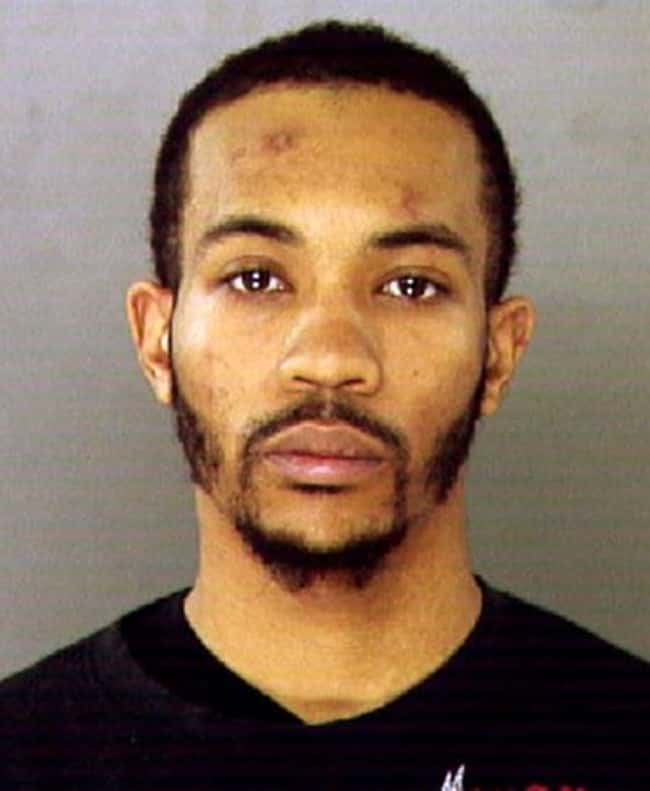 Valentine's Surprise Turns Deadly
Shaun Warrick, 32, had only been dating Tiffany Barnhill for a short amount of time when he, along with two other women, kicked in the door to Tiffany's home and began firing a gun indiscriminately. Afterwards, the two accomplices testified that Warrick said to them, "I f***ed up." Tiffany Barnhill's body was found in the apartment a short time later. The police who responded to the gun shots described the scene they found on Valentine's day 2011 as "eerily quiet," and "a scene of horror."
Wife Plans Husband's Valentine's Day Death
Richard Schoeck planned to meet his wife at Belton Bridge Park on Valentine's Day to exchange cards; it was somewhat of a tradition. And a very endearing one at that.
But at around 9:00 PM that night the police received a phone call from Stacy Schoeck saying she found her husband lying outside his truck and that he had been shot three times in the stomach and twice in the face.
Stacy was not immediately thought of as a suspect until officials did a little research (which is always appreciated). One investigator found that there were some pending life insurance claims totaling $560,000. One of the policies was activated on Feb. 1, and Stacey was the sole beneficiary and on top of that not-so-damning-yet-suspicious evidence Stacy was also having an affair.
So, Stacy conceived of a plot to kill her husband and make off with his life insurance; but she couldn't do it alone. She recruited her former employee Lynitra Ross, and her personal trainer Reginald Coleman. All three were indicted on malice/murder charges.
Court documents said that Stacey Schoeck, was the planner, Coleman, a convicted felon, was the triggerman; and Ross, who was supervised by Stacey Schoeck at a DeKalb County spinal clinic, acted as their go-between.
An analysis of cell phone records and tower activity, including the one nearest to the Belton Bridge Park crime scene, is what led authorities to the two other people in this crime. According to court documents "All the defendants' locations and communications with one another were documented before and possibly after the crime between 8:40 p.m. and 9 p.m."
The trial for all three suspects are pending.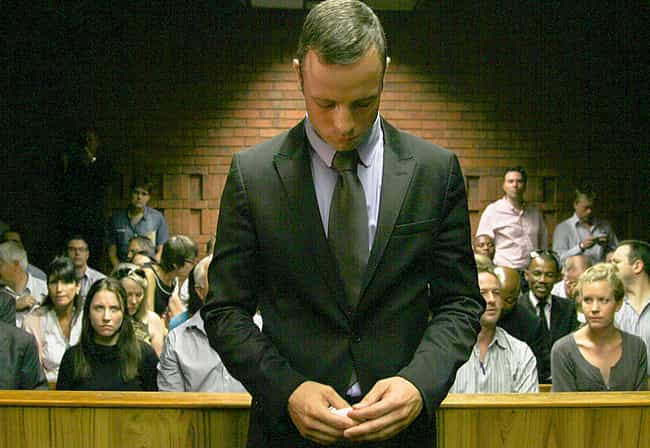 Oscar Pistorius Murders Girlfriend
Olympic and Paralympic runner Oscar Pistorius shot his girlfriend, model Reeva Steenkamp, at their home in Pretoria. Initially, he was charged with manslaughter, but that as overturned and the much heftier charge of murder was applied to the runner. At his trial, Pistorious said repeatedly that he accidentally killed his girlfriend when he believed his home had been broken into.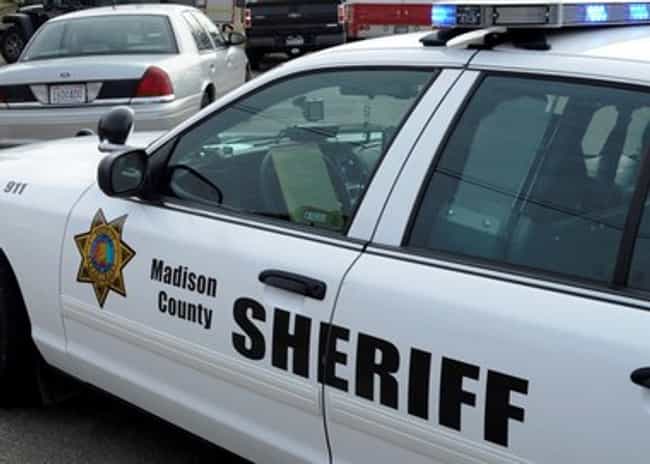 Elderly Couple Ends Everything on Valentine's Day.
In 2015, the Alabama Sheriff's Department discovered the bodies of an elderly husband and wife who were the victims of an apparent murder-suicide. Their investigation showed that the 77-year-old husband shot and killed his wife, 76, before killing himself. According to AL.com, there was "no history of domestic violence," and, "the couple was dealing with long-term illness."