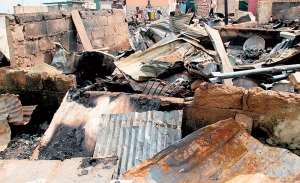 6-year-old girl was on Thursday night burnt beyond recognition by fire that gutted the parents' abode at Sowutuom Agenda, near Bola Junction in Accra.
The deceased, identified as Lordina Hope Agbalu, according to information, was fast asleep in the porch of their apartment without the knowledge of the mother when the fire started.
The apartment was part of a chain of wooden structures that were gutted by the fierce fire that broke out about 8pm.
Mother of the deceased, Matilda Asare, said she was not aware that her daughter was sleeping in the porch when the fire started after she had left with one of her siblings some minutes before the fire started.
The inferno, which lasted for close to two hours, also destroyed properties worth thousands of Ghana cedis.
Items destroyed included refrigerator, mattresses, sofa, electronics, documents, among others.
Madam Asare, a nursing mother, told this paper that that evening she saw Lordina following one of her elder sisters out of the house.
She was asleep with her five-month-old child when she heard shouts for help coming from the adjourning kiosks followed by a thick smoke.
She said she immediately picked up her baby and left the room.
"Later, I asked of the whereabouts of my child only to be told that she returned later to sleep."
With tears flowing uncontrollably, Madam Asare said the charred body was discovered lying in the porch after the fire had been doused.
Personnel of the Sowutuom District Police Command, led by Inspector Stephen Wuni and the Ghana National Fire Service (GNFS) were at the scene to assess the situation and to pick up the body.
Police reports have indicated that about 15 wooden structures occupied by squatters and five container shops got burnt.
The body of Lordina was later sent to the Police Hospital for preservation while investigations continue.
The cause of the fire is yet to be established by the fire fighters who visited the scene.