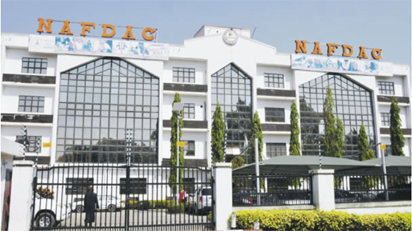 NAFDAC, National Agency for Food and Drug Administration and Control has arrested three manufacturers of Fake Codeine Cough Syrups.
Addressing Journalists in Lagos, the Acting Director General, Mrs. Yetunde Oni said the suspects identified as Mrs Chika Nwaemeka Nwoye, Mr Ebuka Ojeani Nelson & Mr Udoka Offor were also apprehended with fake cartoons of Pharmaceutical products and packaging materials.
Mrs. Yetunde Oni said that One of the suspects, Mrs. Chika Nwoye who happens to be the Marketing Manager of Archy Pharmaceutical Limited and Ebuka Ojeani were being investigated for their involvement in the sale, distribution and faking of fake Archilin and Codeine Cough Syrup.
According tot the Acting DG, some number of cartoons of the fake products were found in the Premises of Ebuka a.k.a
"Ebu-Young"
who had earlier escaped the long arms of the law sometime ago when he was alerted that Operatives were in his shop but he later turned himself in after his warehouse, shop and residential were put on hold by the Agency.
She stated that both suspects seem to be taking advantage of the market opportunities being created by the reputation of the Original company and their Products and they have been arraigned in Court.
For Mr Udoka Offor, he was arrested in Abia State in possession of 50 bottles & 28 Cartoons of
"COF N COLD Codeine Syrup."
Udoka Confessed to making the product in a one room rented apartment in Asaba, Delta State and market these goods at Head Bridge Market, Onitsha, Anambra State.
He said he usually bought the original products from the market, reduces the volume and then mixes it up with borehole water to produce the exact volume per bottle thereby making more uantity of syrup and selling it off to unsuspecting members of the public.
The suspects are in custody and will bear the full wrath of the Law.