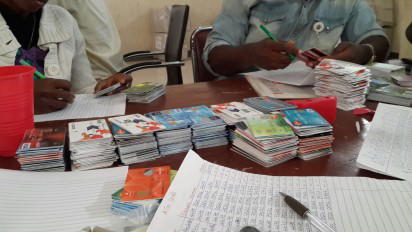 EFCC has arrested a Dubai-bound Nigerian identified as Yasir Salihu Abdullahi who had in his possession 849 ATM cards in his bag belonging to various Nigerian banks.
The commission's personnels have begin interrogation to find out his motives behind this action.
The Suspect was apprehended at Malam Aminu Kano International Airport on Friday, August 3 while he was about to board an Egypt Air Flight heading to Dubai, United Arab Emirates.
He was held in custody when men of the Customs Service scanned him and the scan revealed suspicious items, the officers then alert the EFCC 's office in Kano.
On search, the EFCC realized the suspect had with him, 490 Guaranty Trust Bank ATM cards, 287 Access Bank ATM Cards, 49 Eco Bank ATM Cards, 10 UBA ATM Cards, 6 STANBIC ATM cards, 4 Zenith Bank ATM Cards, 1 Sterling Bank ATM card, 1 Standard Chartered Bank ATM card & 1 First Monument Bank ATM Card.
The Efcc didn't make it known if the cards were issued in the suspect's name.
Investigations are still on going...